Foschi Construction Corp. recently restored a 1901 brownstone in Brooklyn Heights, New York. The owners realized it was time to update this four story building and give it some TLC, which Foschi Construction Corp. was happy to provide. The final product is a stylish mix of modern updates and stunning historic ornamentation. Among other things, Foschi Construction Corp. restored the original flooring and wood detail motifs and gave salvaged pieces new life.
This beautiful apartment also got an up-to-date kitchen, updated bathrooms and an air conditioning system, which had been lacking. Although you wouldn't expect it from the sleek modern lines in these photos, this room used to be a bathroom that was in poor shape. The bathroom was moved to a different location and the kitchen was built from scratch. For a contemporary look, Foschi Construction Corp. used mostly furnishings and materials with crisp, straight lines. The Caesarstone espresso countertops contrast richly with the smooth cream cabinetry and the tiled backsplash in an urban putty matt color. Brown floor tiles that were installed throughout the space blend perfectly with the maple cabinetry.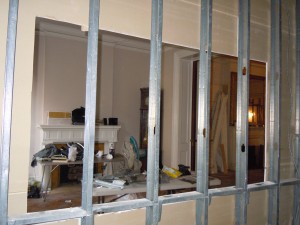 This kitchen has an original window that used to be in the dining room. The window was replaced with a new door leading to a spectacular addition-a full width balcony.  
Our clients wanted to put an air conditioning system in this "mature" building. Foschi Construction Corp. installed a new Ductless Multi-Split Air Conditioning system. This system does not require ducts helping to preserve the beauty and charm of this historic brownstone. The Ductless Multi-Split Air Conditioning is quiet and the A/C unit in each room can be controlled separately for different temperatures.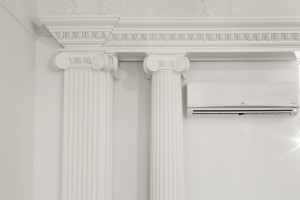 Foschi Construction Corp. also transformed an old basement bathroom into a functional mudroom with linen white walls and red mahogany flooring.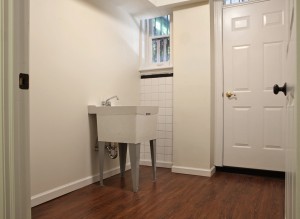 The narrow, rugged, dark hallway was converted into a fresh and larger looking space. Foschi Construction Corp. used light colors for this entrance hallway to create a bright reflective look and make use of the natural daylight. The pale paints along with new light fixtures give the space an uplifting feeling. The new wood floors throughout the lower level and the hall give a clean-cut, continuous flow to the space.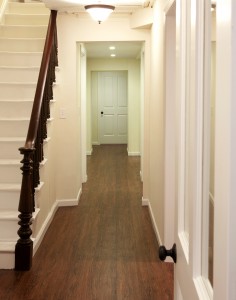 Finding a balance between old and new may not be easy, yet this project shows that it can be achieved with Foschi Construction Corp.'s intelligent, cost-effective design and superior craftsmanship. After incorporating various modern updates, Foschi Construction Corp. transformed this historic brownstone full of intricate details, into an aesthetically unique and truly functional home.